Order online! Easier, Faster, Seamless...
It's now even faster and easier to source your safety prescription eyewear from uvex.
uvex has now made it easier and quicker for safety professionals to order safety prescription eyewear with its prescription ordering website. The user friendly system is designed to display pre-agreed frame and lens options, accept orders and issue approval for the employee to proceed with an eye test.
What's involved
The online process can be set up by uvex for organisations of all sizes, and multi-site organisations can have numerous Authorising officers each with their own account and password.
What are the benefits?
Ideal for any size company
The spectacles are manufactured by uvex, which keeps costs and lead-times down
There are no vouchers! Because invoices are issued on a frame by frame basis and through the customers existing uvex distribution partner there is no need to set up a new account or worry about buying vouchers
Potential reduction in lead-times especially when working with an email active optician
Less paperwork to maintain! Orders are held on the system in the form of a unique database which you can review at any time for easy traceability
Online prescription spectacle ordering
The system will be set up on your behalf with pre-agreed lens and frame options as discussed with your uvex Regional Sales Manager
A secure log in and password is emailed to you – orders can then be placed immediately
Orders can be completed in just a few clicks
The status of orders will be visible
You can run your own user reports
After completing the order, you can:

Print the form off and hand it to the employee for them to take to the optician
Email the form to an off-site employee for them to print and take to an optician
If you do not have a username & password please contact your Regional Sales Manager who will discuss the options with you.
---
Already have an account?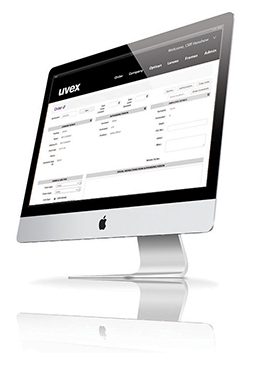 Find out more
To find out more about our prescription online ordering service, contact our prescription department using the details below or contact your uvex regional sales manager.
Prescription department
UVEX SAFETY (UK) LTD
uvex House, Farnham Trading Estate
GU9 9NW Farnham, Surrey
United Kingdom