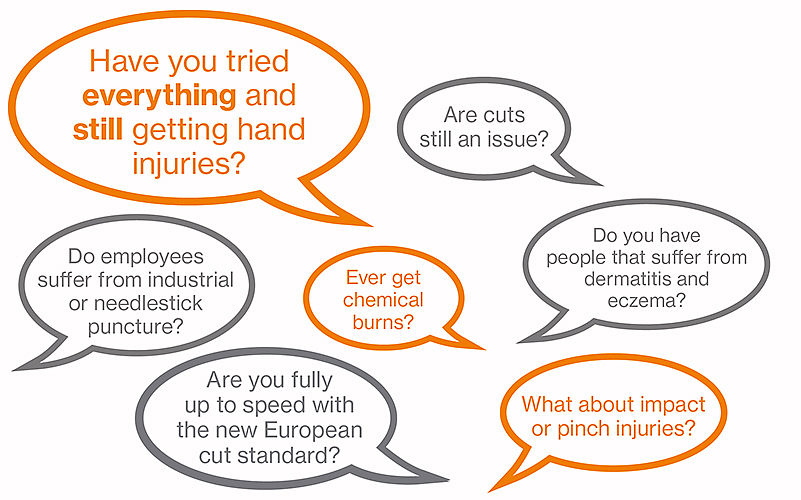 Do any of these questions resonate?
uvex is Europe's largest glove manufacturer and with the inclusion of the Hexarmor glove portfolio, now significantly increases our capability to help you address these multiple challenges.
As part of its Education and Awareness program, uvex is running a Hand Protection Campaign aimed at finding the optimum solution for hazards identified in your workplace and to highlight the benefits of working with a global leader in Personal Protective Equipment.
uvex's Hand Protection Campaign comprises:
free on-site survey to identify potential opportunities to mitigate risk and enhance the wearer experience
the provision of products to support formal wearer trials - free of charge
a customised wearer support and education package including hand awareness posters
glove fitting program full
access to our technical support services team (TSS)
unique access to our online Chemical Expert System (CES) - providing straightforward guidance on product suitability for specific chemicals
professional life-long support from a global glove manufacturer.
Take a look at some of our products
Supporting Greenfingers Charity
To help raise awareness about the good work that national charity Greenfingers do, uvex is raising money and highlighting the support this charity does by supporting children who spend time in hospices around the UK, along with their families, by creating inspiring gardens for them to relax in and benefit from.
Greenfingers is driven by the belief that time spent outdoors, away from the bedside, can offer children and families under considerable stress a vital opportunity to embrace the benefits of being in the fresh air and engaging with the natural environment. Greenfingers are committed to creating specially designed, stimulating garden spaces that can bring many benefits to children with life-limiting conditions.
Whilst many people may take for granted the simple pleasure of being able to enjoy a garden, for these children and their families, the chance to spend time together outdoors and away from the bedside is precious. To find out more visit the Greenfingers website greenfingerscharity.org.uk
uvex hand protection videos
As part of its education and awareness package, uvex has created two short videos to help you navigate some of the recent changes in the standards and learn about uvex manufacturing methods enabling it to deliver the best possible hand protection for you and your employees.
Changes to cut protection standard EN388 ISO 13997
Learn about the changes to the cut protection standard EN388 ISO 13997. Understand the new test method and the new glove markings.
Development of premium safety gloves. Made in Germany
What goes into manufacturing a safety glove? uvex innovative hand protection solutions are manufactured to the highest quality standards.