Trust uvex to produce the goods
PPE for the food industry
protecting people
PPE solutions for working in the food industry
The food and drink industry is the UK's largest manufacturing sector, contributing £28.2bn to the economy annually and employing more than 400,000 people. With innovation at the core of the industry, manufacturers need PPE they can rely on to ensure workers are protected.
Protecting people is our mission. uvex PPE incorporates numerous technologies to enhance safety, functionality and wearer comfort. By doing so, our products not only keep workplace hazards to a minimum, we can help prevent long-term health risks, enhance employee wellbeing which, in turn, has a positive effect on performance and productivity.
430,000 people employed across the UK in the food sector


Food & drink industry is the biggest manufacturing sector in the country
The food supply chain employs 4.3 million people


We understand your needs
In food manufacturing, personal protective equipment needs to not only protect workers from cuts, burns, slips and trips - or longer-term problems like hearing loss - but also protect the products being produced. The uvex phynomic foam not only protects the wearer and is dermatologically approved, it also leaves no trace on sensitive surfaces.
Standing on your feet for long hours, walking on hard surfaces and making repetitive movements can all have an adverse effect on your musculoskeletal system and lead to serious injuries. All uvex safety footwear provides appropriate support and protection as well as superior comfort, something that is often overlooked by other PPE manufacturers.
Working under harsh lighting can cause excess strain on the eyes, leading to headaches and increased fatigue. uvex have developed specially tinted lenses that are ideal for reducing glare from stainless steel machinery, helping employees concentrate on their job.
We know if your employees are comfortable wearing their PPE, and look good while wearing it, they are much more likely to comply with regulations, benefitting their health, your reputation and your bottom line.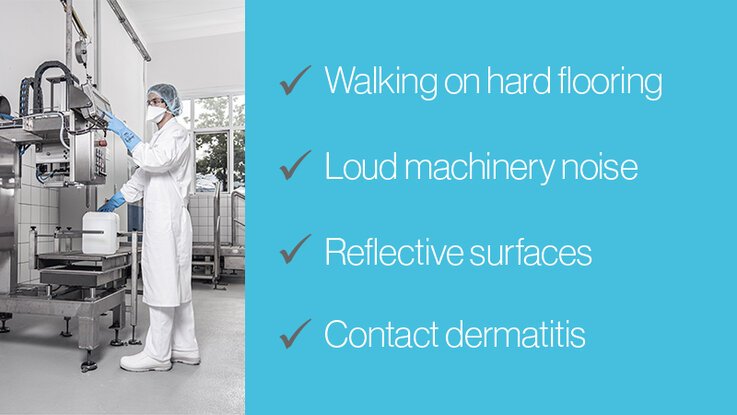 As a European manufacturer we understand that many companies in the UK food manufacturing sector are committed to the target of zero emissions across the entire supply chain. As a producer with high in-house production we consider the environmental impact of all of our processes and place high value on the responsible use of resources, people and protection techniques to ensure minimal environmental impact.
Safety gloves for all applications in the food industry
Safety gloves used for food processing and production applications must be manufactured in such a way that substances released pose no human health risk. Food producers must take all necessary measures to exclude the risk of contamination and guarantee the health of consumers. Standards for hygiene and cleanliness of products form the basis of this and the legal requirements for safety gloves are therefore accordingly strict, as the gloves themselves could also represent a source of contamination. Sharp objects pose a constant risk to our hands, especially in the food industry with its wide-range of activities. In food processing and industrial kitchens hands are at risk when cutting or dicing food, sharpening knives or changing blades in machinery.
Activities in the food industry are just as varied as the requirements to which the necessary PPE is subject. In order to guarantee optimal protection for the skin and stave off any contamination risks, safety gloves must be specifically adapted to their respective applications. A precise risk and workplace analysis is of utmost importance in this. To determine which safety glove is the right one for each application, we support our customers as an active partner and our versatile portfolio allows uvex to cover a huge range of application areas.
Safety footwear for all day comfort
uvex 1 business safety footwear range
The uvex 1 business has been designed to take you seamlessly from the food production line into a supplier meeting in total comfort. Featuring an extra-wide steel toe cap to protect your toes against falling objects and impacts and a non-marking, slip-resistant mono polyurethane sole with soft EVA insert for increased comfort.
Female safety footwear designs
The uvex 1 ladies safety footwear models are manufactured specifically for the shape of the female foot. Physiological differences, including softer and more flexible joints, require differences in footwear design not just smaller sizing, to ensure correct support and suitable protection.
Safety eyewear for working in high humidity
Working in areas with high humidity requires specialist equipment to ensure performance is not impacted by fogging and safety is not compromised by distractions. uvex supravision plus permanent lens coating delivers advanced anti-fog performance, and is scratch-resistant and antistatic on both sides of the lens. The anti-fogging properties are permanent, even after being repeatedly cleaned.
Safety glasses with prescription lenses
uvex is able to provide a choice of metal, plastic and wraparound frame styles in single vision, bi-focal or varifocal for safety or office use. Scratch-resistant lens coatings are supplied as standard and frames from uvex come with a two year guarantee for accidental damage and wear and tear. We are able to offer a prescription service to suit your needs whether you are a large or small organisation, in one or multiple locations.
Detectable hearing protection for comfort and safety
With loud machinery running 24/7, wearing hearing protection when working in the food industry is paramount to safeguarding your hearing. uvex have a range of detectable hearing protection that is not only visually striking to stand out amongst products, but also feature integrated metal parts to allow the earplugs to show up in X-ray scans. Remember to choose the correct level of attenuation so that you are not over-protected and unable to hear warning signals or safely comunicate with your colleagues. If you are unsure what level of protection you require, simply speak to one of our experts who will be happy to help.
uvex u-cap bump caps
Whether you need a bump cap with a short brim for a wider field of upward vision or a bump cap with an integrated hard shell for reliable impact protection in accordance with EN 812 – the uvex u-cap series offers the right protection for your requirements.
FFP1, FFP2 and FFP3 filtering face masks
The uvex silv-Air range of respiratory protection includes highly effective face masks in protective classes FFP1, FFP2 and FFP3 that are extremely comfortable to wear. Protect yourself against solid and liquid aerosols, dust, mist and fumes– even during longer periods of use. At uvex, we not only make sure that all our products meet the requirements of the necessary safety class, but we also pay particular attention to making sure that they fit exceptionally well.
---
---
Next steps
All of the above products are available through our range of trusted distribution partners. Simply visit our dstributor locator to find your preferred distributor with no need to set up an account. Or alternatively, for further information and guidance on where to purchase uvex products simply contact your uvex representative who will be happy to assist, as well as recommend the most suitable PPE.