Take charge of safety with uvex
PPE for the power industry
protecting people
PPE solutions for working in the UK power sector
Natural gas, hydro, wind, solar, and coal plants convert resources into the energy and power that we depend on every day. It is easy to take this for granted and forget that this conversion does not occur naturally. The workers who help produce, install, and maintain the equipment needed to process these resources are working tirelessly and often in the face of unique work hazards. Workforces need to be safeguarded from a diverse range of on-site safety hazards, some of which could pose a risk of serious injury. You can trust uvex to recommend the most appropriate PPE to protect your workforce against such hazards, as well as being the most cost-efficient solution for you.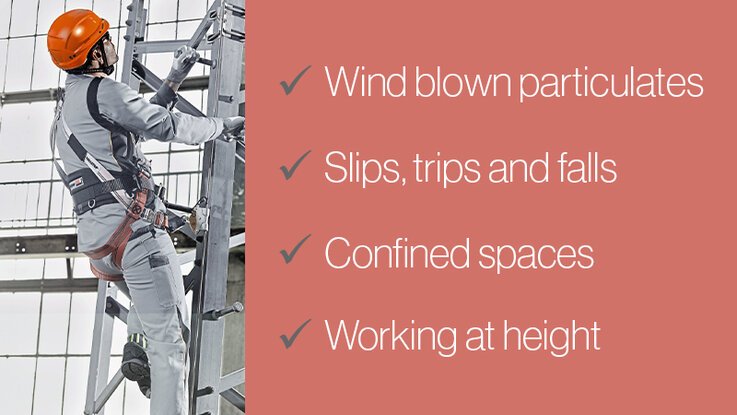 With protecting people at its core, uvex PPE incorporates numerous technologies to enhance safety, functionality and wearer comfort. By doing so, our products not only keep workplace hazards to a minimum, we can help prevent long-term health risks, enhance employee wellbeing which in turn has a positive effect on performance and productivity.
179,000 people directly employed in UK Energy industries and estimated 126,700 in support of UK Continental Shelf production
Electricity generated from renewable sources in the UK in 2018 reached a record 33.0 per cent of total UK electricity generation
UK's power is generated by a number of different sources: oil, gas and nuclear power stations to renewable wind and solar farms
As a European manufacturer we understand that many companies in the UK power sector are committed to the target of zero emissions across the entire supply chain. As a producer with high in-house production we consider the environmental impact of all of our processes and place high value on the responsible use of resources, people and protection techniques to ensure minimal environmental impact. Our quality standards exceed the most stringent requirements and thanks to our universal quality management system, all our factories are certified in accordance with ISO 9001:2000.
Head protection for working at height and mechanical impacts
For those working in the Energy sector, hard hats may need to be worn for long periods of time, and in challenging environments, so it's vital that as well as providing safety, hard hats are comfortable to wear. Industrial safety helmets from uvex comply with standard DIN EN 397, which states that they must be designed to protect the wearer from falling objects. Protection against mechanical impacts to the head safeguards the user against possible consequences such as brain injuries or skull fractures. The standard also includes protection against lateral deformation of the helmet, as well as protecting the wearer from dangerous head injuries.
Robust safety footwear for protection from slips, trips and falls
Working at elevation, on uneven surfaces and in all weather conditions means you need safety footwear you can rely on. Designed specifically for tough, outdoor environments, our safety boots feature broad soles and deep treads for excellent stability and protection. Manufactured in our factory in Italy, uvex safety footwear is also incredibly comfortable to wear thanks to lightweight designs and carefully chosen materials.
Safety gloves for challenging weather conditions
We use our hands all day, every day; at work and at home, making them deserving of the best possible protection. The uvex range of safety gloves is subject to the most stringent control measures ensuring first-class quality and a glove solution for many workplace hazards. Maintaining outdoor equipment puts workers at risk from extreme temperature and weather conditions, and can lead to distractions. Properly fitting safety gloves will reduce strain on the hands, increase dexterity and allow workers to focus on the task without compromising their safety.
Anti-fog safety eyewear for reliable protection and comfort
Whether you need safety glasses, goggles, over specs or prescription glasses, uvex have developed a range of safety eyewear solutions which meet the highest quality standards. Our close fitting specs are ideal for working in confined spaces, as well as our wraparound and frameless options. All uvex eyewear delivers edge to edge crystal clear clarity with 100% UV protection.
Permanent lens coatings
uvex is the world leader in lens coating technology, delivering coatings that are permanently bonded to the lens and so do not wash or wear off, even after extended wear or repeated cleaning. With a range of coatings available, uvex is able to offer the right solution for your working environment.
Easy-to-use hearing protection
Protecting your hearing is essential when working in the power industry, where noise levels can be in the 100 dB range, but clear communication is also vital. If you don't need to wear hearing protection all the time, corded options allow you to hang the earplugs around your neck until required. Remember, noise-induced hearing loss is the most common, permanent & irreversible injury in the world, make sure you are properly protected.
---