uvex super fit welding
The uvex super fit welding safety spectacles combine all of the properties of contemporary safety spectacles with the advantages of state-of-the-art materials. The ultra-thin wrap-around lens with a 6.5 base curve provides optimum protection against mechanical risks.
Low weight welding safety spectacles in a sporty design
Wraparound lens with an excellent field of vision
Soft, adjustable nose piece
uvex super f OTG welding
The uvex super f OTG are very comfortable safety spectacles that offer excellent coverage. As overspecs, they also fit easily over conventional prescription glasses, making them perfect for site visitors.
Fits over most prescription spectacles
Unrestricted peripheral vision
Arms graduate from hard to soft
Soft temple ends gently grip the side of the head for a secure fit
uvex i-vo welding
The uvex i-vo welding spectacles benefit from uvex's unique duo component technology where the glasses are moulded from two material components, making it hard and stable where it needs to be and soft at sensitive pressure points.
Multi-position side arm inclination and adjustable length allows the wearer to adjust the spectacles to suit their facial shape
Soft components on the arms, nose and forehead for a comfortable, pressure-free fit
uvex futura welding
The uvex futura welding spectacles feature a classic design with a wide field of vision and perfect colour recognition lenses. uvex infradur lens coating means both sides of the lens are scratch-resistant as well as minimising the damage from welding sparks.
Classic design with large field of vision
Soft duo-flex ear pieces
Multi-level side arm lengths allow the wearer to adjust the spectacles to suit their own face shape
uvex ultrasonic welding
The uvex ultrasonic combines hard and soft material components with high mechanical strength. This wide-vision goggle features flexible soft components that adapt to your face for a snug fit, ensuring comprehensive side protection, even when worn over prescription spectacles.
Can also be worn over prescription spectacles
Sporty design, panoramic field of vision
Quick and easy lens replacement
uvex ultravision welding
The welding safety version of the uvex ultravision also features a comfortable and ergonomic design and offers unrestricted side visibility. This flexible wide-vision goggle is also suitable for use as overspecs and is available with cellulose acetate or polycarbonate lenses, as well as with a flip-up face guard.
Classic style welding goggle
Can be worn over prescription spectacles
Indirect ventilation system helps maintain a comfortable climate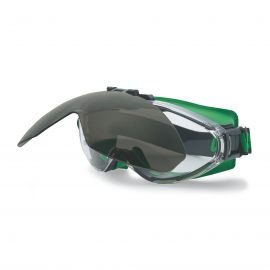 uvex ultrasonic flip-up welding safety spectacles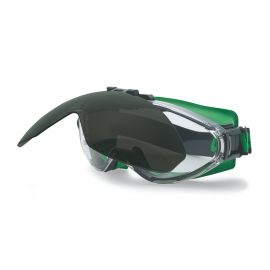 uvex ultrasonic flip-up welding safety spectacles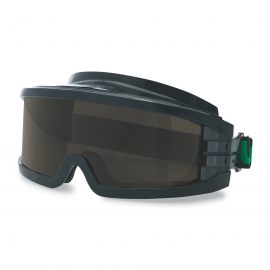 uvex ultravision welding safety spectacles
Protective eyewear and accessories




Next steps
Backed by 90+ years of optics and coatings science, German-engineering and in-house manufacturing, uvex offers a full range of safety eyewear options for you to choose from. Each option includes our revolutionary lens technology for edge-to-edge optical clarity, along with our supravision anti-fog and scratch-resistant coatings that have been tested in our labs but, more importantly, proven in the field.
If you have any questions or would like to arrange a fit test for your employees, contact your local uvex representative who will be happy to help:
---