Trust uvex in an emergency
PPE solutions for rescue services
protecting people
PPE solutions for fire and rescue services
Fire and rescue service personnel operate in dynamic and sometimes high risk environments with a number of hazards that have the potential to cause harm. These can include physical hazards, such as operating large machinery and equipment, and also environmental hazards, such as poor lighting, high noise levels, or excessive temperatures. uvex offer a range of personal protective equipment that is ideally suited to working in the fire and rescue services when performing tasks such as RTC, USAR, working at height or technical rescues. To ensure suitable selection of PPE, our solutions experts are available to work with you to determine the most appropriate products for an activity.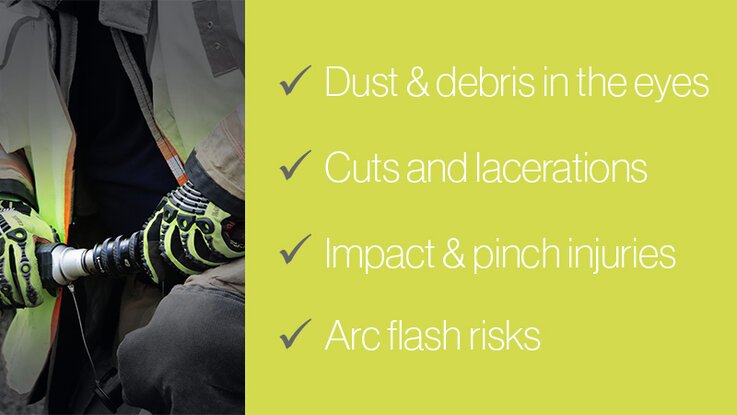 With protecting people at its core, uvex PPE incorporates numerous technologies to enhance safety, functionality and wearer comfort. By doing so, our products not only keep workplace hazards to a minimum, we can help prevent long-term health risks, enhance employee wellbeing which in turn has a positive effect on performance and productivity.
As a European manufacturer we understand that many companies are committed to the target of zero emissions across the entire supply chain. As a producer with high in-house production we consider the environmental impact of all of our processes and place high value on the responsible use of resources, people and protection techniques to ensure minimal environmental impact. Our quality standards exceed the most stringent requirements and thanks to our universal quality management system, all our factories are certified in accordance with ISO 9001:2000.
Safety gloves with cut, puncture and impact protection
uvex offer a range of cut, puncture and impact protection gloves, suitable for tasks such as RTC, USAR, height work or technical rescue. In addition to the uvex range, HexArmor, the world leaders in hand safety, have developed a range of safety gloves specifically for the fire and rescue services that last, call after call, and won't let you down when you need it most. Our uvex and HexArmor gloves provide the highest protection and the best possible fit – offering the complete package of comfort, dexterity, grip, and safety.
Head protection for working at height and falling objects
The uvex pheos helmet series offers maximum safety and wearer comfort. In particular, the multifunctional uvex pheos alpine helmet has been designed for working at heights making it ideal for rescue operations such as USAR, technical rescue, height work and animal rescue. The innovative uvex pheos series is compatible with other uvex personal protective equipment: eye protection, visors, or ear protection. uvex pheos visors can be locked closely to the helmet when not required and is perfectly balanced over the body's centre of gravity. This means the neck muscles are not placed under strain by any unnecessary weight, ensuring excellent wearer comfort and maximum freedom of movement.
Multifunctional helmet for working at heights and rescue operations. Combination of features from the industrial protection helmet (EN 397) with the requirements for a climbing helmet (EN 12492)
Visor fits the helmet seamlessly, leaving no gaps. The injection-moulded transparent peak protects against particles penetrating the inside of the visor.
Ideally suited to electrical work with a fully enclosed helmet shell and certification in accordance with EN 50365 (1,000 Volt AC)
Certified in accordance with GS-ET 29 as Class 2 visors for protection from electrical arcs (7 kA)
Anti-fog safety eyewear with UV and impact protection
With a high risk of injury for personnel in both emergency and non-emergency settings, choosing reliable and comfortable safety eyewear is essential. uvex have developed a range of safety eyewear solutions for use either with structural fire helmets, rescue helmets or on their own for tasks such as RTC glass sawing / removal, USAR, damping down and moorland fires, with additional Prescription options also available. All uvex eyewear delivers edge to edge crystal clear clarity with 100% UV protection.
Permanent lens coatings
uvex is the world leader in lens coating technology, delivering coatings that are permanently bonded to the lens and so do not wash or wear off, even after extended wear or repeated cleaning. With a range of coatings available, uvex is able to offer the right solution for your working environment.
Safety glasses with prescription lenses
uvex is able to provide a choice of metal, plastic and wraparound frame styles in single vision, bi-focal or varifocal for safety or office use. Scratch-resistant lens coatings are supplied as standard and frames from uvex come with a two year guarantee for accidental damage and wear and tear. We are able to offer a prescription service to suit your needs whether you are a large or small organisation, in one or multiple locations.
Close-fitting plastic frame. Protective functions integrated into frame. Length and angle of the arms can be adjusted. Foam seal for use when working with dust, chips or fluids.
Contemporary plastic frame with integrated protective features. uvex Comfort Sliders allow the side arm length and inclination to be adjusted.
Ideal choice when you require increased protection from large dust particles and liquid splash in combination with prescription lenses.
Safety Respirator insert
For use with self-contained breathing apparatus. Designed to fit inside a fill face respirator which can be easily adjusted.
Easy-to-use hearing protection for clear communication
Protecting your hearing is essential for fire and rescue services, with engines, sirens, pumps, generators and powered extrication tools all running, noise levels can be over 100 dB. Clear communication is also vital, and the uvex hi-com earplugs allow for this with low sound absorption and excellent speech perception. If you don't need to wear hearing protection all the time, corded options allow you to hang the earplugs around your neck until required. Remember, noise-induced hearing loss is the most common, permanent and irreversible injury in the world: make sure you are properly protected.
Robust safety footwear for protection from slips, trips and falls
Manual handling tasks, walking on uneven surfaces and operating in all weather conditions means you need safety footwear you can rely on. Moving heavy firefighting and rescue equipment such as ladders, hoses and machinery, or carrying casualties or animals can put fire and rescue personnel at high risk of musculoskeletal disorders. uvex safety footwear is incredibly comfortable to wear thanks to lightweight designs and carefully chosen materials. Designed specifically for tough, outdoor environments, our safety boots feature broad soles and deep treads for excellent stability and protection.
---