Mondopoint - uvex multiple fit system
Selecting the right size
Industrial footwear fits differently from everyday shoes due to the materials used and safety features, such as the toe cap. uvex recognises that fit and comfort go hand in hand and when you are on your feet all day, it's important both of these factors are met in order for you to perform without distraction.
As a German company with European manufacturing plants, our footwear is produced using European sizing. Currently, there is nothing in the European standard that stipulates the exact sizing of safety footwear, which is why people may find they are different sizes depending on the brand. We recommend measuring your foot as described and using our size chart to ensure an accurate fit.
Need a different width?
uvex also offers a multiple fit system whereby a footwear style is offered in the same size but in a range of different widths. The different fits are based on the measurement of the widest part of the foot. A measurement can be taken of either the circumference of the foot at the base joint of the big toe and the base joint of the little toe or alternatively the width of the foot at this point (see opposite).
The classification of sizes and the corresponding values are detailed in the table below (all measurements in mm):
| | | | | | | |
| --- | --- | --- | --- | --- | --- | --- |
| uvex shoe size | UK shoe size | Foot length in mm (Mondopoint) | Width 10 circumference (available on request) | Width 11 circumference (standard stock item) | Width 12 circumference (select styles currently in stock) | Width 14 circumference (available on request) |
| 35 | 3 | 217 | 216.5 | 222.5 | 28.5 | 240.5 |
| 36 | 3.5 | 225 | 221 | 227 | 223 | 245 |
| 37 | 4 | 232 | 225.5 | 231.5 | 237.5 | 249.5 |
| 38 | 5 | 240 | 230 | 236 | 242 | 254 |
| 39 | 6 | 247 | 234.5 | 240.5 | 246.5 | 258.5 |
| 40 | 6.5 | 255 | 239 | 245 | 251 | 263 |
| 41 | 7 | 262 | 243.5 | 249.5 | 255.5 | 267.5 |
| 42 | 8 | 270 | 248 | 254 | 260 | 272 |
| 43 | 9 | 277 | 252.5 | 258.5 | 264.5 | 276.5 |
| 44 | 10 | 285 | 257 | 263 | 269 | 281 |
| 45 | 10.5 | 292 | 261.5 | 267.5 | 273.5 | 285.5 |
| 46 | 11 | 300 | 266 | 272 | 278 | 290 |
| 47 | 12 | 307 | 270.5 | 276.5 | 282.5 | 294.5 |
| 48 | 13 | 315 | 275 | 281 | 287 | 299 |
| 49 | 14 | 322 | 279.5 | 285.5 | 291.5 | 303.5 |
| 50 | 14.5 | 330 | 284 | 290 | 296 | 308 |
| 51 | 15 | 337 | 288.5 | 294.5 | 300.5 | 312.5 |
| 52 | 16 | 345 | 293 | 299 | 305 | 317 |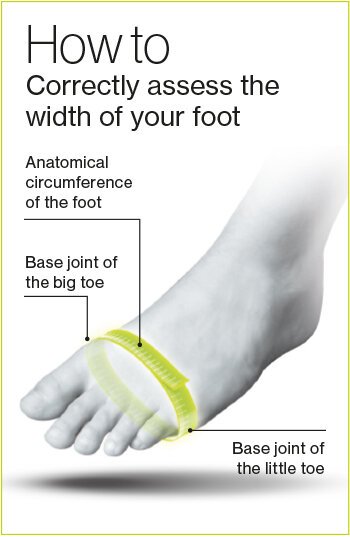 Got a question about one of our products? Fill in our quick form and we will get back to you
Contact us
---