uvex Technical Support Services
uvex-safety is committed to the design and production of product ranges which respect the maxim that 'one size does not fit all' – enabling Personal Protective Equipment (PPE) solutions to be tailored to individual requirements – delivering absolute consistency of protection and performance levels.
uvex recognises the importance of surrounding the 'product' with an array of support services which are tailored to assist PPE decision makers in selection and safety strategy implementation ensuring that PPE wearers derive maximum benefit in terms of protection and "issue free" wearability.
Our highly qualified Technical Services Division are on hand to provide assistance in areas such as site services (e.g. helping companies achieve "Fit2Fit" accredited face fit competency), process support (e.g. safety prescription eyewear ordering), product selection and trials, customised training, safety strategy implementation and information exchange.
Want to find out more?
To find out more about any of the services offered by uvex, contact:
Nigel Day - Technical Support Services Manager - 07768 616 788
Matthew Marsh - Technical Support Services Executive - 07815 425 391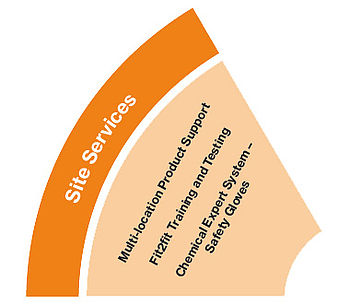 Site services
Multi-location product support
toolbox talks - customised
PPE implementation support
visual / graphic message boards
wearer issue resolution
Face fit test training
Fit2Fit accredited training support
trainer attendance certificate
Chemical expert system - safety gloves
extensive database of tested chemicals
easy access
3 search options

quick search
advanced search
customised login facility

direct contact with uvex glove experts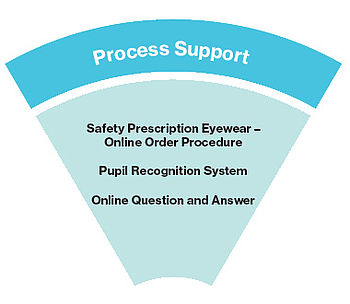 Process support
Safety Prescription Eyewear - Online order procedure
time and cost effective
permanent traceability and control
environmentally friendly
secure and discreet
Pupil recognition system
unique screen/software based Rx measurement process
saves time lost when visiting opticians
cost and administration effective
accurate and reliable
100% traceable
management in your hands
Online question and answer
expert advice
problem solving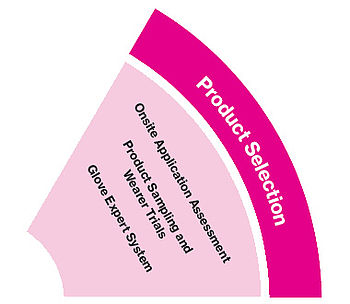 Product selection
Onsite application assessment
uvex specialists review site and location issues alongside Health and Safety Managers
consideration of environmental factors
Product sampling
formal structured wearer trials
range definition
Glove expert system
comprehensive platform to enable the best match between defined chemicals and appropriate safety gloves
permanent visual record of selection
translation into customised application / risk versus product posters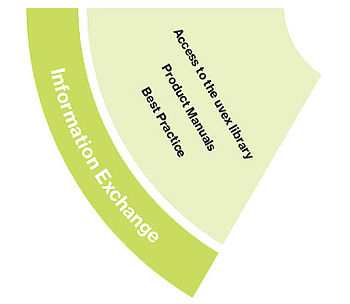 Information exchange
Access to uvex library
extensive product technical data
certificates of conformity
legislation and regulation
standards
Product information
applications
features
care and maintenance
Best practice
industry experience
cost in use - economic benefit models
quality control
product development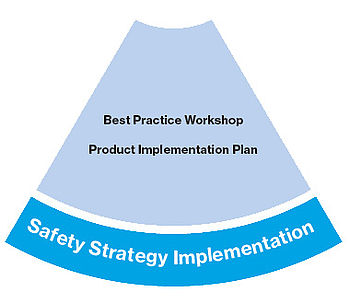 Safety strategy implementation
Best practice workshop
relevant examples of best practice supporting product introduction
managing resistance to change
immersion in communication content
Product implementation plan
structured support programme

locations
message content
trails
teething problems
training and education
issue management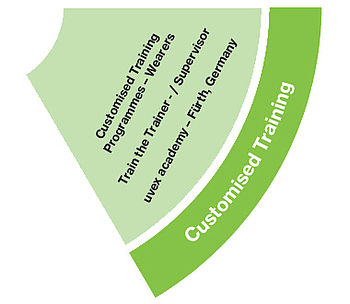 Customised training
Customised training programmes - wearers
customers PPE goals
why PP makes sense
regulation and legislation
standards
products - features, benefits, basis for selection, care and maintenance and wearability
parallel best practice
soft copy - hard copy
train the trainer / supervisor
higher level content
face fit testing - BSIF Fit2Fit (RPE) accreditation
uvex academy - Furth, Germany
manufacturing process - uvex PPE - building confidence and awareness of available technology
EN test laboratory - real time access to test standards for PPE