New technologies = higher protection + lower carbon footprint
At uvex, we understand many organisations are struggling to specify appropriate levels of hand protection for specific high risks tasks whilst ensuring they are reducing their impact on the environment.
uvex prides itself on developing new technologies that protect both people and the planet. The launch of our protecting planet range represents the company's commitment to developing durable and sustainable product solutions using bio-based and/or recycled materials which are produced in our own facilities with low CO2 emissions. Under the uvex product portfolio, HexArmor gloves featuring SuperFabric® technology is proven to provide the highest level of cut and needlestick protection in the market.
The products below have been specifically selected for tasks typically undertaken by Local Authorities and which carry particular risks:
Litter picking
Vegetation clearance
Refuse collection
Sustainable solutions
Our technology is proven to:
✔ Reduce injuries ✔ Minimise costs and waste ✔ Improve efficiencies and productivity ✔ Enhance comfort and compliance ✔ Reduce stock levels
---
| | | |
| --- | --- | --- |
| Task | Risk | Solution |
| Litter picking | Broken glass and hypodermic needles | HexArmor PointGuard® Ultra 9032 needlestick protection glove |
High dexterity and needlestick protection
• Industry-leading cut and needlestick protection thanks to layers of SuperFabric® brand material
• Hi-vis polyester shell and a knit wrist to prevent dirt and debris from entering the glove
• Sandy nitrile three-quarter knuckle palm coating provides superior grip and abrasion resistance in wet conditions
• Seamless construction allows enhanced comfort and breathability while maintaining dexterity and tactility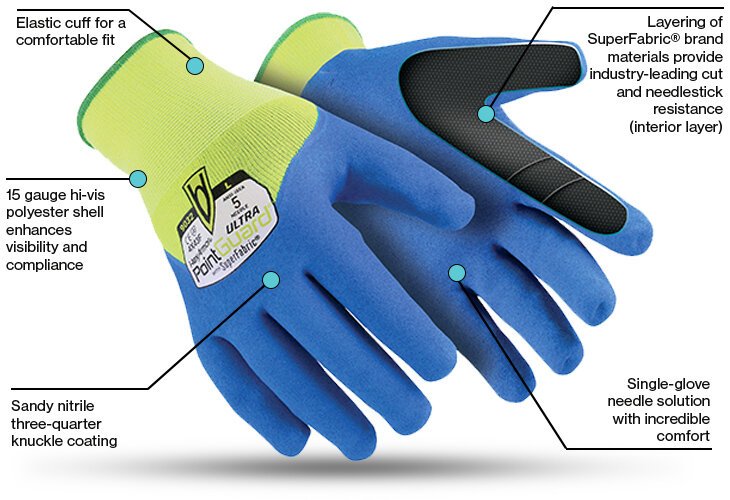 15-gauge hi-vis polyester shell enhances visibility and compliance
Sandy nitrile three-quarter knuckle coating for superior grip
SuperFabric® layers for industry-leading cut & needlestick resistance
---
| | | |
| --- | --- | --- |
| Task | Risk | Solution |
| Vegetation clearance | Hypodermic needles and sharp thorns | HexArmor® ThornArmor® 3092 thorn-resistant glove |
Breathable and reliable thorn protection
• Three layers of SuperFabric® brand material in the palm
• Reinforced index finger wrap extending the puncture-resistant area
• Highly puncture-resistant palm lining acts as a barrier between your hands and sharp thorns and needles, without sacrificing comfort or dexterity
• Breathable HexVent® panel on the back-of-hand helps keep you cool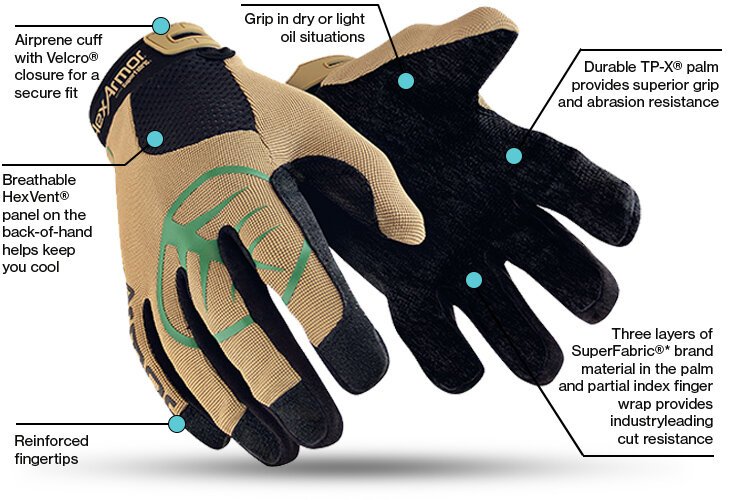 3 layers of SuperFabric® brand material in the palm and partial index finger
Breathable HexVent® panel on the back-of-hand helps keep you cool
Durable TP-X® palm provides superior grip and abrasion resistance
---
| | | |
| --- | --- | --- |
| Task | Risk | Solution |
| Refuse collection | Adverse weather conditions | uvex unilite 7710F reusable safety gloves |
Reusable water-resistant gloves - avoid creating additional waste from single-use alternatives
• Seam-free multi-purpose gloves ideal for dirty, wet and oily environments
• Fully coated with nitrile rubber (NBR) for protection against moisture and water reaching the skin
• Additional sandy nitrile coating on the palm of the glove provides good grip in dry, wet or oily environments as well as adding a high level of abrasion resistance
• Reusable glove helps to avoid creating unnecessary waste from single-use gloves, reduces glove spend through lower usage and means less product going to landfill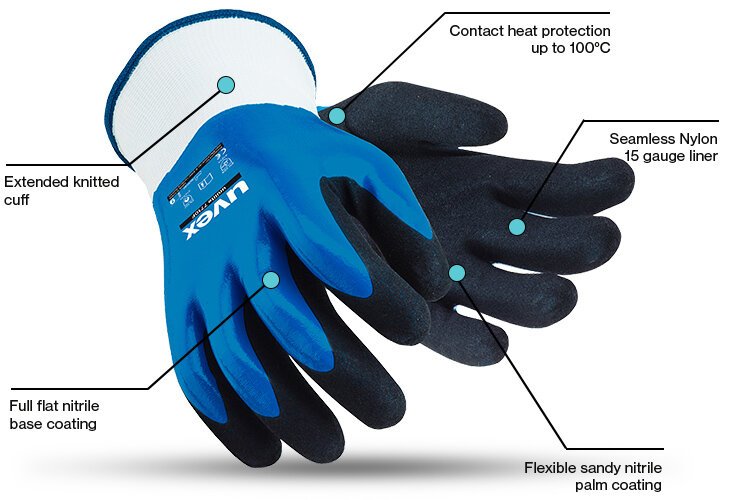 360° protection against moisture and water
15 gauge Nylon liner for dexterity and comfort
Additional sandy nitrile palm grip coating
---
| | | |
| --- | --- | --- |
| Task | Risk | Solution |
| General maintenance | Eco-friendly products with cut protection and high dexterity | uvex Bamboo TwinFlex® D xg (part of the uvex protecting planet range of products) made from 45% sustainable materials |
Part of the uvex protecting planet range of sustainable products
• 45% sustainable materials: recycled polyamide and bamboo-viscose, which is based on renewable raw materials
• Noticeable comfort thanks to smooth fit bamboo-viscose with high moisture absorption
• High-performance fibres offer a high level of protection against abrasion and cut hazards and excellent grip in dry and slightly damp/oily conditions
• Launderable up to 4 times for excellent product longevity and value for money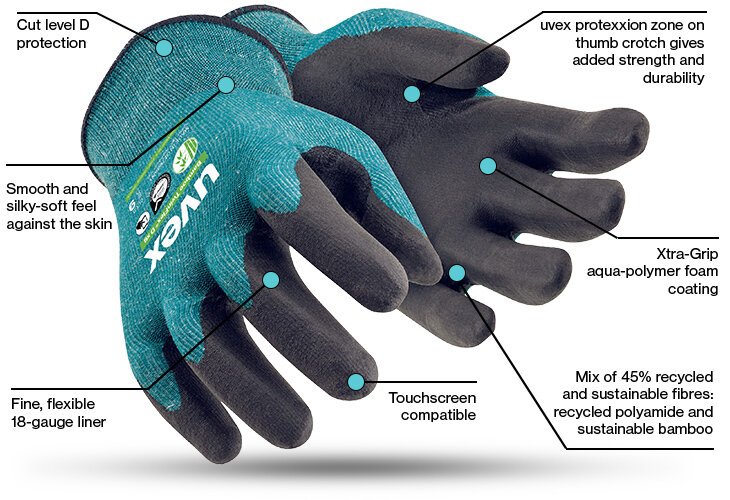 More durable for higher cost effectiveness & longer service life
High cut protection (cut level D) & touchscreen capability
CO2 neutral production in Germany & paper packaging
---