How to care for your uvex safety gloves
Follow these tips on how to care for and maintain your uvex mechanical safety gloves hygienically and safely, making sure you remove them correctly and wash and store them appropriately.
1. Prior to use, check the gloves to ensure there is no damage, e.g. holes, incisions. If faulty, damaged or if showing signs of heavy abrasion - gloves must not be used. Replace as necessary.
2. Make sure you have the correct size.
3. After use: pull gloves inside out from the wrist to keep any contaminant contained.
4. Wash hands thoroughly and sanitise.
5. Ideally put a fresh pair of gloves on each time.
6. Discard or store appropriately until they are worn again or can be laundered.
7. Launder all pairs at the end of the day and allow to air dry.
8. Wash and sanitise hands after handling soiled gloves.
Correct removal of gloves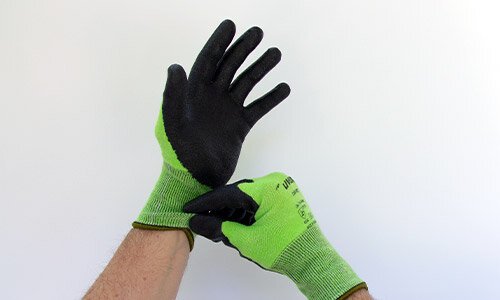 Pinch the glove at the wrist area and lift it away from the skin - without touching your skin.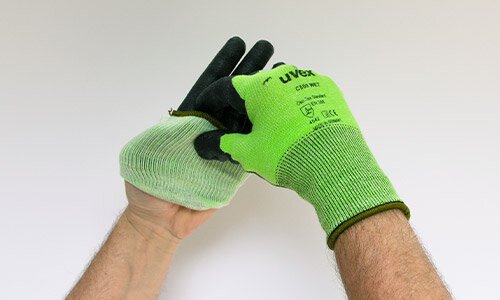 Peel the glove down towards your fingers allowing it to turn inside out. This traps any contaminant inside the glove.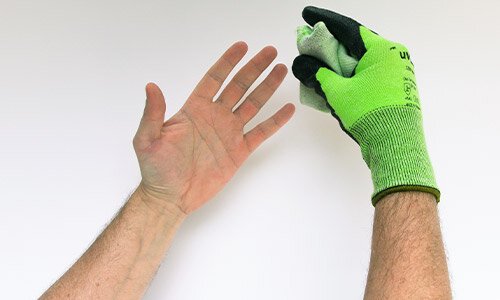 Once the glove is off, hold it in a ball in the remaining gloved hand.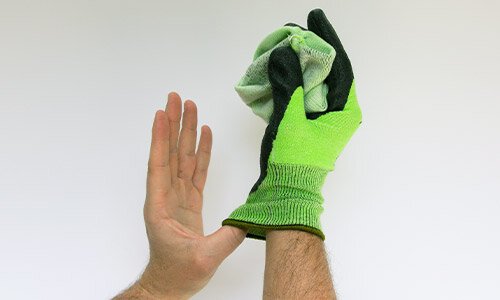 To remove the second glove, slide your fingers inside the wrist without touching the outside of the glove.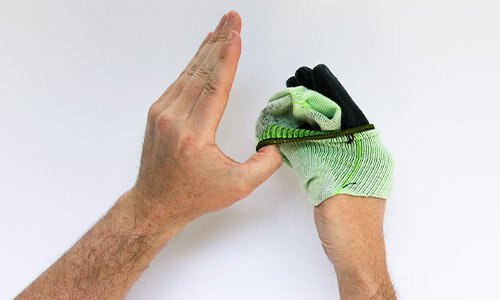 Peel it off towards your fingers from the inside, turning inside out as you go, folding and encasing it around the other glove.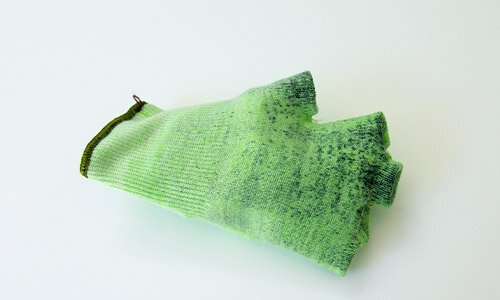 Discard or store appropriately.
For hygiene and environmental reasons, gloves can and should be laundered after use depending on the level of wear. Gloves with heavy abrasion or damage should be disposed of. Do not use any chemicals or sharp-edged objects for cleaning the gloves (wire brushes, abrasive paper). The following uvex gloves can all be washed at 40ºC.

Cut protection
uvex D500 M foam
uvex C500 XG
uvex C500 foam
uvex C500 wet
uvex C500 wet plus
uvex C500 dry
uvex C500 uncoated
uvex C500 sleeve
uvex unidur 6643
uvex unidur 6641
uvex unidur 6613
uvex unidur 5555 HV
uvex unidur 6655F HV
uvex unidur 6649
uvex unidur 6659
uvex unidur 6659 foam
Mechanical protection
uvex rubipor ergo
uvex rubipor XS
uvex profi ergo
uvex profi XG
uvex phynomic lite
uvex phynomic foam
uvex phynomic allround
uvex phynomic wet
uvex phynomic XG
uvex phynomic pro
uvex phynomic C3
uvex unipur 6631
uvex unipur 6634
uvex unipur 6639
uvex unipur carbon
uvex unilite 7700
---