Harrisons - Recommended RPE Fit Test Provider
The British Safety Industry Federation (BSIF) recognised the need for respiratory personal equipment (RPE) to be fitted properly after it emerged that many workers did not have the correct protection levels due to poor fitting equipment.
Recent research suggests up to 50% of all RPE used does not offer the wearer the assumed level of protection, mainly from not fitting properly.
UK Health and Safety regulations stipulate that RPE must be correctly selected and for those individuals wearing the equipment, to receive adequate training. Where a face seal is necessary, an appropriate fit test must be conducted by a competent person. To ensure people know the person conducting their test is competent, the British Safety Industry Federation along with HSE and other industry stakeholders developed the Fit2Fit Providers Accreditation scheme.
Face fit testing is a method used for checking that a tight fitting face piece matches the person's facial features. Under current legislation, they need to be face fit tested to ensure that the wearer is fully protected from airborne contaminants.
A proud partnership
uvex are proud to partner with Harrisons for the provision of BSIF Accredited Fit2Fit Face Fit Testing and Respiratory Training to realise their shared commitment to support customers in their objective of protecting people in the workplace.
Through the provision of highly effective and comfortable uvex face masks, together with an extremely friendly and professional team of experts, this partnership guarantees your employees will receive the advice, training and education they need to ensure they know how to wear their respiratory protection correctly.
Harrisons deliver UK wide training, across all industry sectors. Training takes place at your premises to ensure minimal disruption to your working day.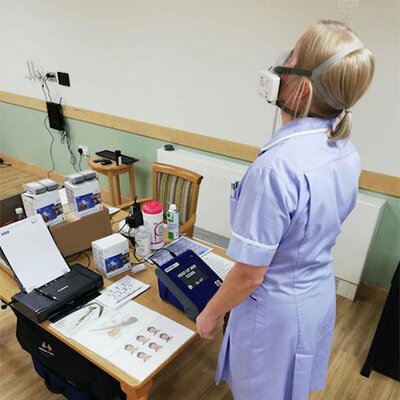 For more information contact:
Got a question about one of our products? Fill in our quick form and we will get back to you
Contact us

---