Care and maintenance guide for your uvex safety footwear
Once you've been provided footwear that's suitable, fits perfectly and is comfortable, you then need to ensure the quality of the shoes is maintained. If footwear is not looked after, it will quickly become unsuitable and may cause or increase the chance of accidents. HSE advises that PPE must be properly looked after and stored when not in use. Before wearing, safety footwear should always be checked for faults, damage, wear and tear, and dirt. Follow our helpful tips to get the best out of your footwear: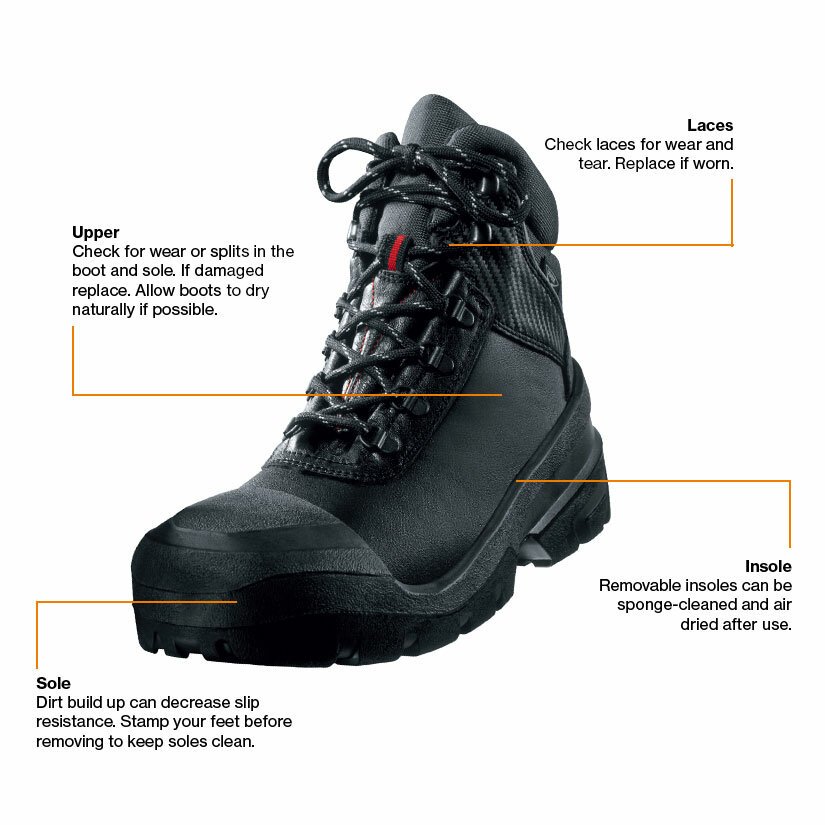 Upper: To keep your boots clean, brush or wash any dirt off. Check for warning signs that signal when footwear has reached retirement age, such as damaged toes, protective components showing, separation of the sole, worn tread, and cuts, cracks or punctures. Dry the footwear naturally and store in a cool, dry place away from direct sunlight.
Laces: Check laces for wear and tear and replace if damaged. Make sure you tie the laces to the top for correct protection.
Insole: Removable insoles can be sponge-cleaned and air dried after use.
Sole: Soles should be brushed and washed to remove dirt and contaminants. The slip rating (SRC) will be compromised if the soles are not cleaned as they are unable to make contact with the ground directly. Stamp your feet before removing to keep soles clean.
Discover our range of insoles
uvex have developed a range of insoles to fit multiple widths as well as low, medium and high arch shapes to ensure a comfortable fit.
Comfortable climatic insole uvex 1 business
Three width sizes: 10, 11, 12
Available in sizes 39 to 52
Offers a more customised fit
Certified for use in uvex 1 business in accordance with EN ISO 20345:2011
Article numbers: 95157 (width 10), 95158 (width 11), 95159 (width 12)
Comfortable climatic insole uvex 2 trend
Three width sizes: 10, 11, 12
Available in sizes 38 to 52
Offers a more customised fit
Certified for use in uvex 2 trend in accordance with EN ISO 20345:2011
Article numbers: 95187 (width 10), 95188 (width 11), 95189 (width 12)
uvex 1 and 2 multiple fit system
Three width versions: Narrow 10, Standard 11, Wide 12
Offers a more customised fit
Certified for use in the following uvex safety shoes in accordance with EN ISO 20345:2011: uvex 1 and uvex 2
Article numbers: 95347 (width 10), 95348 (width 11), 95349 (width 12)
uvex hydroflex® GEL comfort cork insole
Breathable natural cork footbed
Activated charcoal to prevent odour
Shock absorbing gel in heel
Effective ventilation system
Article number: 95982
---