PPE solutions for waste collection teams
Tackling jobs outdoors in adverse weather conditions poses another set of hazards, with workers dealing with extreme temperatures, wet and slippery conditions and the increased fatigue this can lead to. With this in mind we have designed a range of PPE solutions to keep your team protected and working at their best, whatever the weather.
uvex hand protection solutions for wet, cold and hot weather conditions
Alongside the right protective function, wearer comfort is extremely important for safety gloves.
Our hands have 375 sweat glands per square centimetre on the palms and the insides of the fingers, and around another 200 on the back of the hand; nowhere else on the human body has more glands. These are particularly active in the summer which is why it is important to chose a safety glove that allows hands to breathe, while providing appropriate protection levels.
Decreased mobility in your fingers and the fact that every mistake is more painful in the cold means that choosing the right safety gloves that can give you both protection and warmth, and still provide enough dexterity to complete the job is crucial. uvex unilite thermo safety gloves feature a durable polymer coating that remains highly flexible even at low temperatures, making them the ideal choice for working in the cold.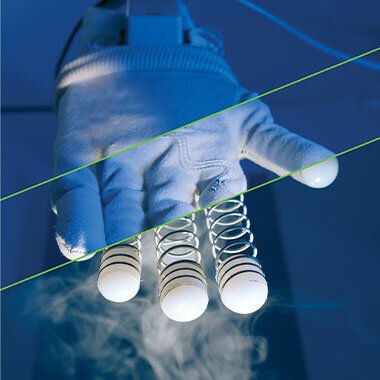 Durable safety footwear from uvex
Working in waste collection requires teams to be on their feet all day, and this can leave workers with throbbing feet, tired legs and possibly lower back pain at the end of the shift. Walking on hard floors, doing repetitive lifting, twisting and turning movements can all have an impact on your musculoskeletal system. Correctly fitted safety footwear that has high levels of cushioning, shock absorption and a tread pattern that supports the body's natural movement can help relieve strain on the joints and muscles. In addition to this, sweat and inclement weather during the winter months means wearer's requirements change with the seasons, yet they still require uncompromising levels of safety and comfort. The below styles are a snapshot of the footwear from uvex that addresses these various requirements.
Safety eyewear with sunglare lenses
Our eyes are up to 10 times more sensitive to UV damage than our skin. We know our skin needs protection from harmful UV rays and yet 50% of people don't protect themselves by wearing sunglasses.
Eyewear should deliver a low-pressure, lightweight fit with even weight distribution. Thanks to uvex's German-engineered dual-injection mould technology, we're able to combine soft and hard components into frames that flex; making them comfortable and durable, while also ensuring eyewear stays put.
Face protection while cutting vegetation
The uvex pheos faceguard system consists of a height and width-adjustable head mount and a high-quality, scratch-resistant and anti-fog polycarbonate visor. The visor can be locked in any position, while the head mount is fully adjustable providing the wearer with the highest level of flexibility. The face protection system has been carefully designed to deliver an ergonomic, lightweight solution with ideal climate characteristics. With ingenious attachment options and replaceable parts, this face protection multisystem can be expanded to perfectly suit your area of application.
uvex pheos faceguard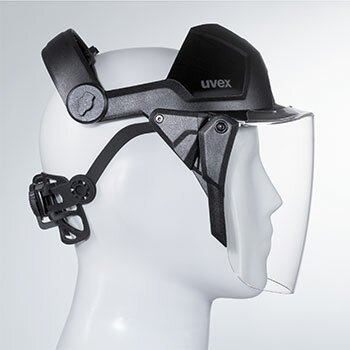 The sturdy, polycarbonate visor delivers a large field of vision for a wide, unrestricted view. Protected by uvex's lens coating technology, with anti-fog coating on the inside and scratch-resistant on the outside.
Protective features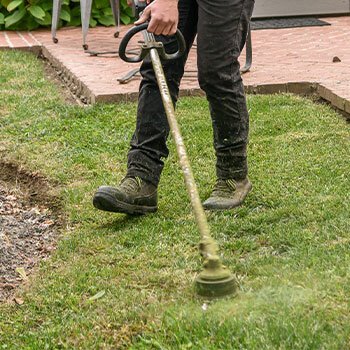 • Certified in line with EN 166 (personal eye protection) and EN 170 (UV filters)
• W 166 39 B CE - 2C-1,2 W1 B 9 KN CEM
• Reliable UV400 protection
Modular and adaptable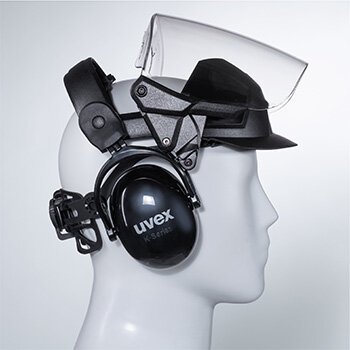 Hearing protection can be attached and removed quickly using a bayonet lock. The visor features a spring-loaded locking system and sits centrally above the head in a neat resting position when not in use, promoting a natural posture and minimising strain on the neck.
Invest in your people | Save money | Reduce waste
Permanent lens coatings
uvex is the world leader in lens coating technology, delivering coatings that are permanently bonded to the lens and so do not wash or wear off, even after extended wear or repeated cleaning. With a range of coatings available, uvex is able to offer the right solution for your working environment.
---
High performing products
uvex safety is synonymous with exceptional industrial health and safety solutions that fulfil the highest demands. These are based on in-depth expertise, the latest research and technology and uncompromising quality. Almost 80% of the value chain is generated in uvex manufacturing plants. The headquarters in Fürth, Bavaria, has become a centre of expertise for innovative safety eyewear, from spectacles to laser protection glasses. Mechanical and optical properties are tested in uvex's own laboratory.
Standard is not an option
uvex takes product development seriously, by researching the ergonomics of a product, harmonising product performance and the capabilities of the human body using high-tech materials, proven to perform even under the harshest conditions.
Contact us for help and advice on the selection of PPE
As Country Manager Ireland for uvex I bring over two decades of experience to my role. I am focused and committed to working alongside Health and Safety professionals to ensure employees remain safe and healthy within the workplace.

Through my industry and product knowledge I can assist with information that will aid the selection of Personal Protective Equipment that will optimise both safety and wearer acceptance and comfort. In addition to this, I am supported by a team of highly professional product, training and marketing specialists who are on hand to provide technical support, materials and awareness programmes that not only supports and enables you to implement health and safety strategy but also facilitates the highest level of wearer compliance through innovative, extended life PPE.