Manufacturing expertise
We offer personal protective equipment from head to toe, with manufacturing expertise in all areas – and we invite you to judge our expertise.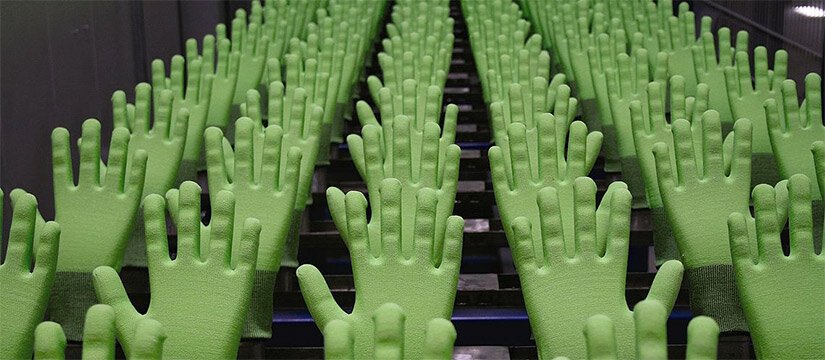 We place the highest requirements on ourselves
Almost 80 % of our value added is generated in our own plants. These production plants are home to the latest technology, a huge wealth of experience and a passionate desire for product innovation, which is in many ways pioneering.
Strict quality management ensures that we meet the high requirements we have set ourselves and our products – all our plants are certified in accordance with ISO 9001:2008.
Our own product development and a tight network of strategic partners help us to continuously create innovative ideas. Innovations – just as much as existing products – have to prove themselves in our own test laboratories. Only when a product exceeds all the requirements of the relevant safety standard does it earn the right to the uvex name.
Got a question about one of our products? Fill in our quick form and we will get back to you
Contact us
Manufacturing expertise in head protection
Safety helmets
With our advanced expertise in plastics processing, we produce safety helmets and inner shells for bump caps in Germany. High-quality materials and on-going monitoring of all production processes guarantee the highest level of excellence for head protection products.
Head protection covers much more than helmets
Expertise in head protection also means thinking about areas where helmets are not compulsory, but where there is still a risk of head injury. This is why we have developed the uvex u-cap bump cap. The innovative arrangement of the plastic shell elements is inspired by the armadillo – and uniquely combines protection and wearer comfort.
Manufacturing expertise in protective eyewear
Safety spectacles
At our site in Fürth, we combine everything from safety spectacles and full vision goggles to prescription and laser protection goggles. In this unique competence centre for protective eyewear, we develop and produce, in accordance with strict quality standards, premium coating systems to enhance the properties of our eyewear – and to create high-performance premium products.
laservision – over 30 years of experience in laser protection
With the laservision brand and our product promise "WE PROTECT YOUR EYES", we also offer globally standardised cutting-edge technology in laser protection and laser safety spectacles – which we develop ourselves, produce and sell.
Manufacturing competence in ear defenders
Hearing protection
The uvex range of hearing protection includes earplugs, banded ear defenders, earmuffs (safety headphones) and otoplastics. SwedSafe in Höör, Sweden, is our ultra-modern manufacturing plant for hearing protection with its own research and development department all under the same roof. SwedSafe has become one of the leading manufacturers of hearing protection in only a few years since it was established, thanks to its successful network of partnerships with known hearing protection specialists and its collaboration with testing facilities across the world. SwedSafe also sets benchmarks for environmental protection and sustainability. SwedSafe regularly sets the bar just that little bit higher in hearing protection thanks to its innovative drive and its own polyurethane foam that it developed in-house.
Value follows innovation
As a specialist in foam processing, SwedSafe continuously monitors and optimises earplugs and their material composition in terms of cell structures and homogeneity. This achieves optimal reset times and the best possible contact pressure. The many patents relating to earplugs that have been filed are proof of SwedSafe's innovative drive.
Manufacturing expertise in safety gloves
Safety gloves
UVEX SAFETY Gloves GmbH & Co. KG based in Lüneburg, Germany, is the competence centre for safety gloves. Production on-site ensures a high technical standard and short paths from manufacturer to user. Modern production and development, an in-house sewing department and an associated laboratory with extensive testing and application technology work hand in hand here. From developing innovative yarn blends to knitting and processing new coating formulations, we cover all processes in-house.
Value follows innovation
We are always listening to what our customers and the market are saying, but also to what is happening in sales and marketing, so that our solutions suit both the industry and individual employees. Our sophisticated innovation process has earned us (while still under the name of Profas) the title of "Top 100 Innovator of the Year 2013" in category B (50 to 250 employees) in the German top 100 company comparison – a title we could not be prouder of!
Manufacturing expertise in protective footwear
Safety footwear
With an ultra-modern shoe factory in Ceva, Italy, we have set ourselves the challenge of manufacturing technically demanding safety footwear at the highest level of quality and production in Europe and with short paths between development, production and delivery. The plant in Italy is able to manufacture safety footwear extremely flexibly with a very wide range of PUR and rubber outsoles. In a progressive technology centre at the company's headquarters in Germany, we work constantly on new pioneering ideas for our customers and develop sophisticated innovations.
Custom-fit safety for all
Our expertise in safety footwear doesn't stop at standard fittings: Individually produced orthopaedic inserts or ready-made safety shoes and boots mean that we can help people with a wide range of foot-related conditions to resume a normal working life.
Learn more about our sustainability journey at our European manufacturing sites