Comfort is key when thinking about safety shoes
A study was previously conducted in partnership with the University of Applied Sciences Kaiserslautern, Germany to investigate the term wearer comfort. Its main focus was perspiration and the role that the temperature inside footwear plays in comfort. We know that sweating excessively or feeling too hot is something that leads to discomfort, but what exactly causes sweating and how does this natural process impact feet?
To begin, it is worth considering what is to be understood be the term "comfort". This is ultimately a very individual sensation and is therefore difficult to define. Generally speaking comfort is the absence of discomfort.
The perception of comfort is without doubt dependent on the temperature in the shoe: whether the foot is too cold, warm or damp or if there is foot odour. In relation to footwear, common factors affecting comfort can be divided into three supersets: psychology, biomechanics and climate/ physiology. Many different aspects can be allocated to these categories, including fit, shock absorption, weight, temperature, moisture, odour and feel, which are all perceived differently from person to person. Some of these can be measured, while others are hard to substantiate. As a result, it has so far not been possible to develop a solution that creates the optimum microclimate within a shoe. Let us first cover the basics of sweating.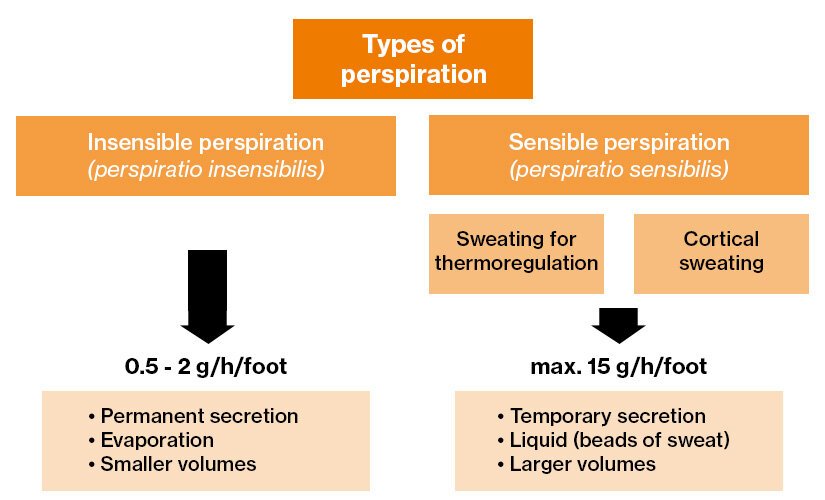 As the diagram above shows, there are different kinds of perspiration. Insensible perspiration occurs subconsciously, with small volumes continuously evaporating from the body surface. In contrast, sensible perspiration encompasses both sweating for thermoregulation (sweating reflexively to cool down the body's core temperature and maintain a constant skin temperature) and cortical sweating, which is caused by emotional reactions such as stress and excitement. This type of perspiration is temporary, with larger volumes being secreted by the body as beads of sweat.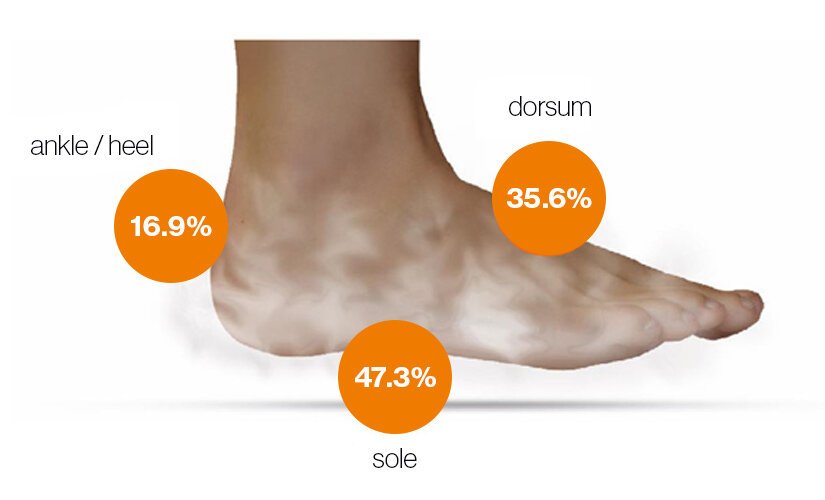 The figure above shows the distribution of sweat glands on the foot. The greatest volume of sweat is secreted on the sole of foot, followed by the top of the foot. The ankle and heel area have the fewest glands.
So much for the theory, but what are the consequences of perspiration, other than the sensation of dampness?
In the long run, damp skin can bring about various different effects. For example, it can cause the top layer of skin to be more easily damaged, skin lipids start to thin and subsequently lose their protective function. In addition, the pH value is influenced, which can weaken the protective acid mantle and consequently make skin generally more susceptible to chemicals and allergenic substances.
The objective in shoe development must therefore be to create products that not only fulfil their protective function, but also provide the best possible climate in the shoe. This means shoes should have the ability to wick moisture away from the foot with material that allows this moisture to evaporate.
Crucially, these functions must be performed even if the footwear is water resistant or waterproof. For that reason, uvex products use materials that offer high water vapour permeability for both the lining and upper materials. Excellent water vapour permeability values are achieved with microvelour, which is currently a very popular choice. The quality of the insole is also key, as the high number of sweat glands on the sole of the foot mean if should have particularly high water absorption capacity. The absolute saturation point of uvex insoles was measured and total water absorption amounted to around 70ml.
We of course ensure that the best possible materials are used in the development of new products. Nonetheless, both the topic and how it is perceived are very subjective, with many different factors contributing to footwear wellbeing and some fluctuation in personal perception. It will therefore always be difficult to make just one shoe that creates an optimum shoe climate for everyone.
Breathable safety footwear from uvex
---
About uvex group
The uvex group brings together three globally active companies under one roof: the uvex safety group, the uvex sports group (with uvex sports and Alpina Sports), and Filtral. The uvex group is represented in 22 countries by 48 subsidiaries but chooses to do most of its manufacturing in Germany and Europe. Two thirds of the company's 2.600-strong workforce (as at FY 2016/2017) is employed in Germany. uvex is a global partner to international elite sport and equips a host of top athletes. The motto protecting people is at the heart of the company's activities. uvex group develops, manufactures and distributes products and services for the safety and protection of people at work, in sport and for leisure pursuits.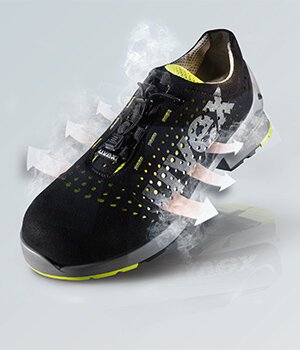 Sign up to our newsletter to receive information about our latest products, services and other interesting highlights
Sign up now