New uvex 2 trend safety footwear - Affordable Quality and Comfort
The new uvex 2 trend safety shoe range offers real value for money. Whether in the assembly hall or on the production line, indoors or outdoors: uvex 2 trend safety footwear range is suitable for medium duty applications and incorporates numerous proven technologies at an affordable price.
Safety and comfort redefined
uvex's new line of safety footwear offers a range of shoes and boots in protection class S1, S2 and S3. Uppers are made from high quality leather or microfibre textile and all guarantee reliable safety standards provided by a steel midsole and a steel toe-cap. The dual density polyurethane outsole (slip-resistant SRC certification) in combination with the uvex anti-twist heel cap, offer pure comfort and stability to prevent ankle twisting. Additional reflective elements enhance the design and increase wearer safety due to them being more visible. The S3 versions are equipped with an additional scuff-cap which prevents wear and tear especially when kneeling.
A Boa® Fit System option also features in the range, allowing wearers to adjust the fit of their safety shoes quickly, effortlessly and with precision. The system ensures long-lasting comfort and allows laces to be released by simply pulling up the dial. Suitable for everyone, especially those that wear gloves and want to adjust their footwear throughout the day or trades people that need to slip their footwear on and off regularly to enter customers houses.
The non-leather version is made from highly breathable, chrome-free materials and features an antistatic comfortable insole with moisture transport system and cushioning in the heel and forefoot area to ensure a pleasant foot climate and wearer comfort.
The uvex 2 trend range meets the ESD specification. The ergonomically designed outsole offers optimum grip on almost any surface and the materials used are free of silicones, plasticisers and other paint wetting impairment substances. The synthetic upper materials are suitable for people allergic to chrome.
---
About uvex group
The uvex group brings together three globally active companies under one roof: the uvex safety group, the uvex sports group (with uvex sports and Alpina Sports), and Filtral. The uvex group is represented in 22 countries by 48 subsidiaries but chooses to do most of its manufacturing in Germany and Europe. Two thirds of the company's 2.600-strong workforce (as at FY 2016/2017) is employed in Germany. uvex is a global partner to international elite sport and equips a host of top athletes. The motto protecting people is at the heart of the company's activities. uvex group develops, manufactures and distributes products and services for the safety and protection of people at work, in sport and for leisure pursuits.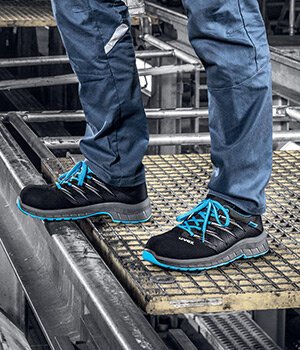 Sign up to our newsletter to receive information about our latest products, services and other interesting highlights
Sign up now