EN 407 rated gloves
| | | | | | | | |
| --- | --- | --- | --- | --- | --- | --- | --- |
| | Burning behaviour | Contact heat | Convective heat | Radiant heat | Small splashes of molten metal | Large splashes of molten metal | EN388 |
| uvex Bamboo TwinFlex® D xg | | 1 | | | | | 4X41D |
| uvex C500 wet | | 1 | | | | | 4X42C |
| uvex C500 wet plus | | 1 | | | | | 4X42C |
| uvex C500 foam | | 1 | | | | | 4X42C |
| uvex profi ergo ENB20A | | 1 | | | | | 2121X |
| uvex profi XG 20 | | 1 | | | | | 3121X |
| uvex rubiflex XG 27B | | 1 | | | | | 3121X |
| uvex unilite 7710F | | 1 | | | | | 4121X |
| uvex u-chem 3500 | | 1 | | | | | 3121X |
| uvex arc protect g1 | 4 | 1 | 1 | 1 | | | 1X21X |
| HexArmor Chrome SLT 4061 | 4 | 2 | 2 | 1 | 4 | 1 | 4X41D |
| HexArmor Chrome SLT 4062 | 4 | 2 | 2 | 1 | 4 | 1 | 2X23E |
| HexArmor Rig Lizard 2021X | | 2 | | | | | 4X43CP |
| HexArmor Rig Lizard 2025X | | 2 | | | | | 4X44FP |
| HexArmor Helix 2082 | 4 | 2 | 3 | 1 | 2 | | 3X43D |
uvex Bamboo Twinflex D xg
Tactical feel and cut protection perfectly combined
The patented Bamboo TwinFlex® technology combines the best of both worlds in one cut protection glove (Cut Level D). On the inside of the glove, wearers experience noticeable comfort for thanks to the natural bamboo fibres that perfectly adapt to your individual handshape in 3-5 minutes. On the outside of the glove, our high-performance fibres provide reliable high-level protection against external hazards such as abrasion and cutting.
C 500 Series
Cut and heat protection combined
The uvex C500 series sets standards regarding protection, comfort, flexibility, tactility and economy. This high-tech safety glove combines all of these qualities with the highest level of cut protection, level 5/C. The uvex C500 foam is especially suitable for dry or slightly damp working conditions.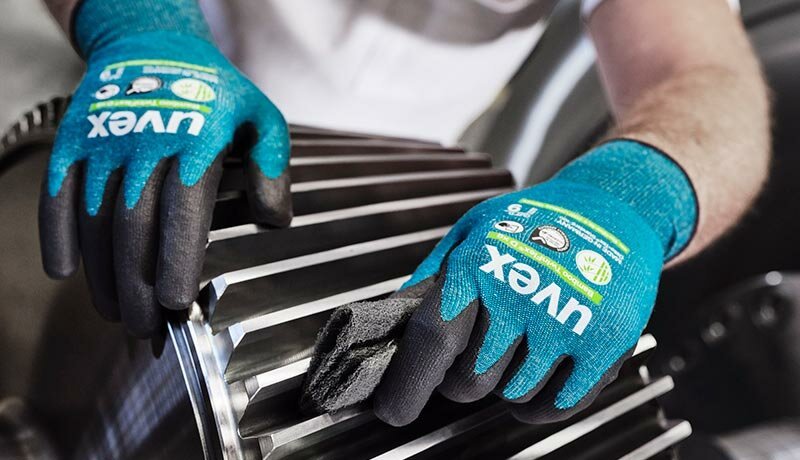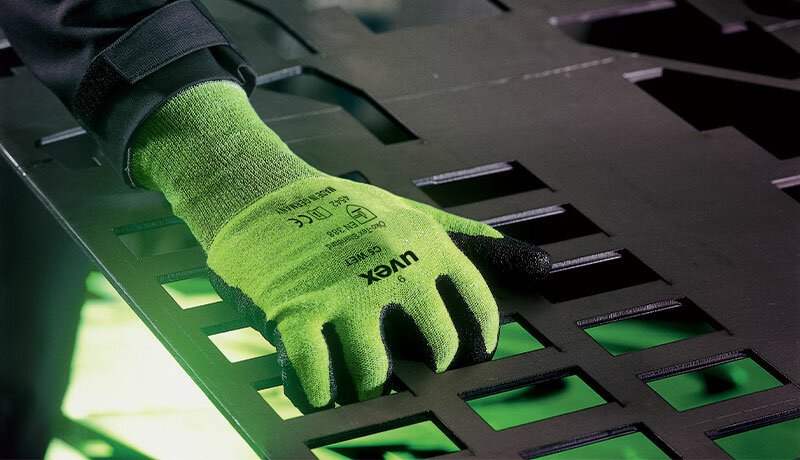 ---
Special protection
Excellent grip on warm and wet workpieces
The uvex u-chem 3500 chemical protection gloves are ideal for handling a variety of different chemicals. Thanks to their full-surface chloroprene and NBR coating, the gloves offer excellent grip and are resistant to acetone, cleaning agents, adhesives and solvents.
Protection against the thermal discharge of a short circuit electric arc
Hands are at the greatest risk of burns from short circuit electric arcs when working on electrical equipment. The uvex arc protect g1 protective glove provides safe protection against the thermal discharge of a short circuit electric arc. The modacrylic/cotton knit is flame retardant and protects the wearer from second-degree skin burns.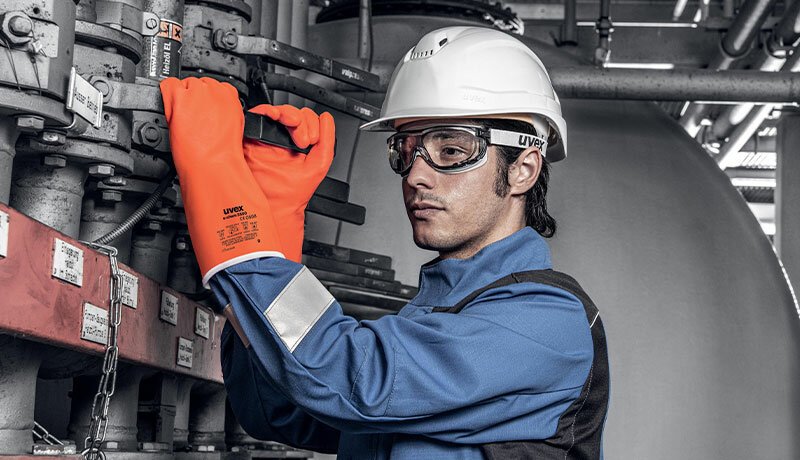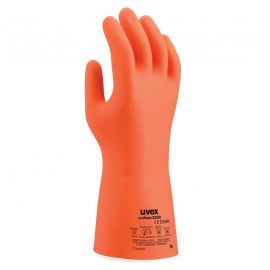 uvex u-chem 3500 chemical protection glove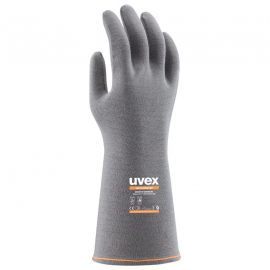 uvex arc protect g1 - arc flash protection
---
Impact protection and grip
A grip for every job
The Rig Lizard® Series is purpose-built to provide maximum grip in tough situations – with over five grip options for water, oils, muds, and lubricants. Each glove is also equipped with our highly flexible IR-X® Impact Exoskeleton™, keeping hands protected from smash and pinch injuries. This combination of multiple technologies and features makes the Rig Lizard® the ideal solution for common oil, gas, and mining hazards. With options for cold weather protection, your hands can stay safe and comfortable in any environment.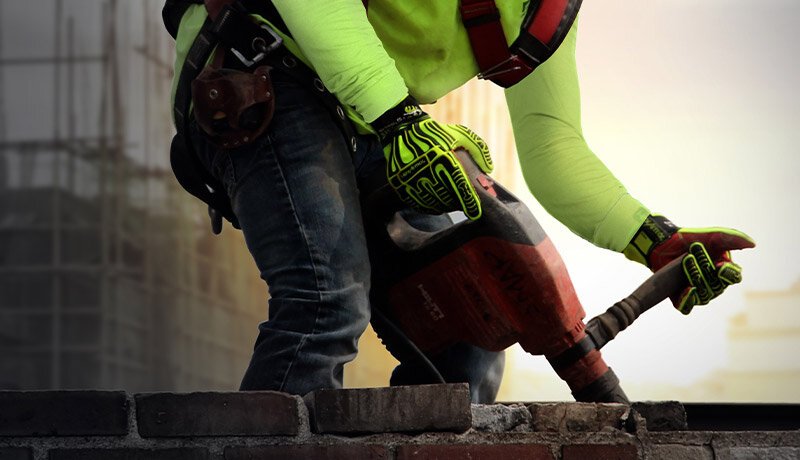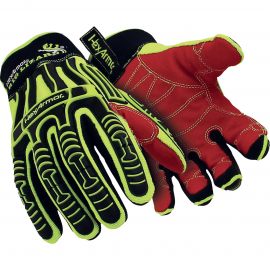 HexArmor® Rig Lizard® 2021X impact protection glove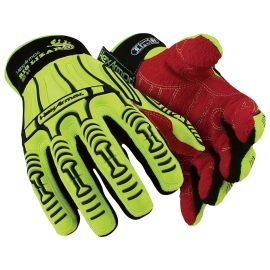 HexArmor® Rig Lizard® 2025X impact protection glove
Comfort + Cut Protection. Redefined.
Arc flash & contact heat rated safety glove
The HexArmor Chrome SLT® features an extended safety cuff and a goatskin leather palm to give workers the traditional style of comfort they love while providing cut and Arc Flash protection - all while being designed with unsurpassed comfort, dexterity, and protection.
The Helix® Series 2082 gloves by HexArmor® feature a 13-gauge flame-resistant aramid and wool blend shell that offers cut protection and an Arc Flash level 2 rating. A flexible, FR-compliant neoprene/nitrile blend palm coating provides superior grip and abrasion resistance.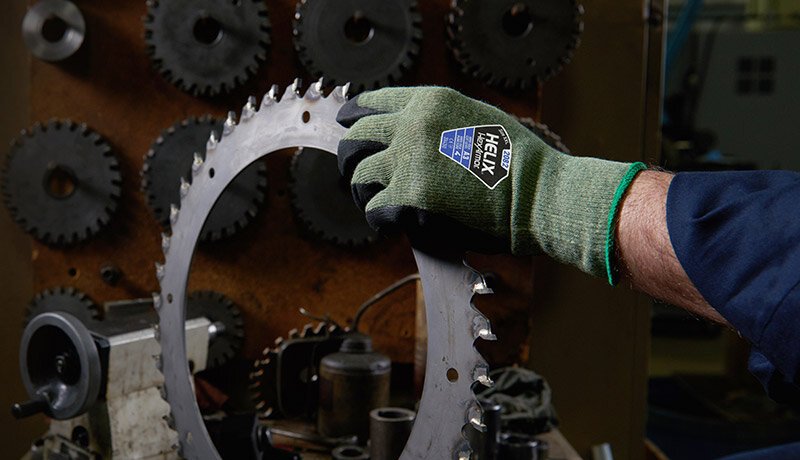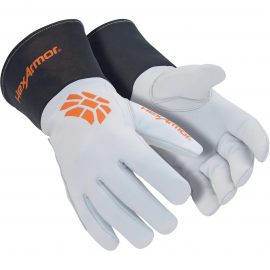 HexArmor® Chrome SLT® 4062 welding glove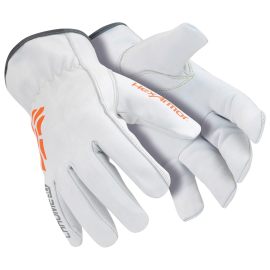 HexArmor® Chrome SLT® 4061 Arc flash glove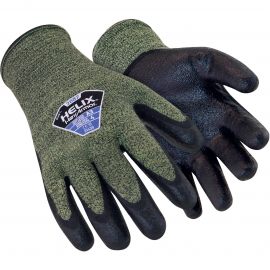 HexArmor® Helix® Series 2082 heat protection glove
---