The Health & Safety Event
Located at the NEC Birmingham, The Health & Safety Event is the UK's largest gathering of anyone responsible for running a safe and efficient workplace.
At the forthcoming show, uvex is presenting its new sustainable product system - "protecting planet"
uvex's corporate mission of "protecting people" is more relevant than ever, and our commitment to this includes taking responsibility for society and the environment.
As a family-owned manufacturer, our USP is that we can control, measure and transparently report our sustainable progress across our entire global business. Having implemented over 300 measures to improve our sustainability performance by investing in new technologies, processes and green energy to measurably reduce CO₂ output by 70% in recent years, the goal is to be carbon-neutral in the near future. However, our commitment does not stop there; high quality standards for products are combined with the development of recycling concepts and the use of bio-based materials. The durability and long service life of uvex products also help to reduce waste and conserve resources.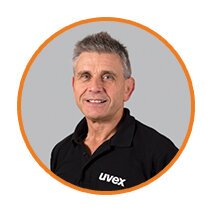 ---
Nigel Day, Technical Support Services
Our Technical & Support Services Manager Nigel Day will be a guest speaker on the first day of the show, Tuesday 5th April. Details below:
12:15-12:45 Head and face protection - your obligations
This session will discuss why it's essential you only procure head and face protection from a reputable manufacturer/supplier and will also cover key things to look out for when selecting this PPE for your workforce.
---
protecting planet
Under the motto "protecting planet", uvex is presenting a complete product system of environmentally friendly products for the first time.